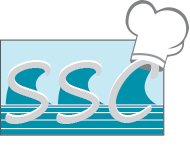 Sea Salt Chef
See Salt Differently
Recipes - Beef
Flourless Chocolate Cake with Salted Almond Butter Ganache
From: Simply Chocolate Magazine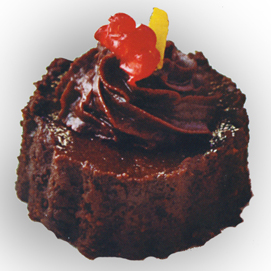 Yield 1 - 9x9 inch cake
Preheat the Oven to 325F/ 175C
Preparation Time: 45 minutes
Cooking Time: 20 - 25 minutes
Difficulty Level: Easy
Keeps for: 4 days
2 cups/300g of 70% cocoa chocolate (Cacao Barry St. Domingue)
10 tbsp. 120g unsalted butter
1 cup/ 200g sugar
7 eggs, large, separated
1 tsp / 5ml vanilla extract
1/2 tsp. / 2.5g salt
Melt chocolate slowly over double boiler or in the microwave.
Remove from heat and let cool.
With a mixer, cream the butter and sugar in a bowl until light and fluffy.
Add egg yolks one at a time on low speed beating well after each addition.
Add the vanilla and chocolate and beat only until well blended.
Whisk egg whites with salt until stiff peaks.
Fold in whites to the chocolate mixture in three stages.
Pour into cake mold, lined with parchment paper.
Bake for 20-25 minutes. Do not over bake!
Cool before removing from mold. Use pastry cutter to make unique shapes as shown in picture.
Salted almond butter chocolate ganache
7fl oz/ 200ml 35% Cream
1 tsp./ 5g sea salt
2 1/2 cups/ 350g of 70% cocoa chocolate (Cacao Barry St. Domingue)
3/4 cup/ 150g almond butter
Heat cream and sea salt until almost boiling.
Pour over chocolate. Stir gently until melted.
Add almond butter and whisk until smooth.
Let cool at room temperature.
When mixture has the consistency of whipped cream, pour onto cooled chocolate cake mold.
Tomato Crisp Bread
From: Raw Food Detox - Ulrika Davidsson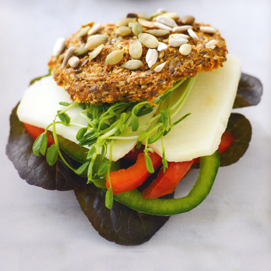 1 batch
1/4 cup sundried tomatoes
1 cup sunflower seeds
1 cup crushed flaxseeds
2 tomatoes
2 tbsp dried basil
1 pinch of sea salt
Soak the sundried tomatoes in 1/2 cup of water overnight. Soak the sunflower seeds overnight in a separate bowl. The next day , preheat a dehydrator to 100 degrees 40C. Drain the sunflower seeds and put in a food processor. Add the sundried tomatoes and their water. Slice the fresh tomatoes, removing the core, then place in the food processor along with the flax seed, basil, and sea salt. Blend everything together until it is evenly mixed. You should be able to shape it. Add more water if it is too hard, and if it's too thin add more flax seeds. Spread the mixture on a medium baking sheet (or one of the trays included with your dehydrator) lined with parchment paper; spread it thin enough to cover the entire sheet. Bake in the dehydrator for 4-5 hours. Remove from the dehydrator and use a knife to carve into squares. Turn the squares upside down and return the sheet to the dehydrator. Bake it for an additional 4-5 hours. Let cool before serving. Store dry in a closed container.
Macadamia Pie with Feta and Broccoli
From: Raw Food Detox - Ulrika Davidsson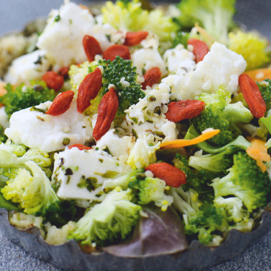 4 small pies
1/2 small zucchini
1/2 cup macadamia nuts
a pinch of sea salt
Filling:
1/2 broccoli
Juice of 1/2 lemon
1 tbsp olive oil
1 carrot
4 small lettuce leaves
5 oz (150g) feta cheese
1 tbsp olive oil
2 tbsp dried goji berries
1 tsp shelled hemp seeds
1 tsp oregano
Preheat a dehydrator to 113 degrees (45C). Cut the zucchini into small pieces and place in a food processor with the nuts. Mix to a grainy dough and season with sea salt. Place the dough in 4 small spring form pans. Bake in the dehydrator for about 4 hours. Prepare the filling by chopping the broccoli into small florets and tossing them in lemon and oil. Peel and chop carrot. Place a lettuce leaf in each pie dish and top with the lemon marinated broccoli, carrot, and crumbled feta cheese. Drizzle some oil on top and sprinkle the goji berries, hemp seeds, and oregano on top.