Featured Book -
Colour Accessibility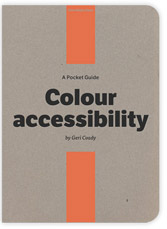 By Geri Coady
Publisher: Five Simple Steps -
Language: English
Size: 89 pages
Format: EBook
ISBN: 978-1-907828-19-5
This Pocket Guide will teach you how to create designs that are accessible to people with colour-blindness without sacrificing aesthetics. This book is primarily aimed at web, app and game designers who want to ensure their colour choices are as accessible as possible, but contains useful information that will benefit any designer who makes colour decisions in a project.
2 reviews ★★★★☆(4 out of 5 stars)
Digital Book Price:$10 CAD - In Stock
Reviews:
5

stars - "

Very Helpful Book

"

I really enjoyed this book. It captures the essential challenge people face as they try to make sense about colour blindness and web accessiblity.

4

stars - "

Great Job

"

Great information found in this book. My only regret was that this book was not available in paperback format.